Burt Trip to New Hampshire July 17-21, 2007
The reason I do these pages is so I may record my experiences for myself and also share them with those that might care to see them.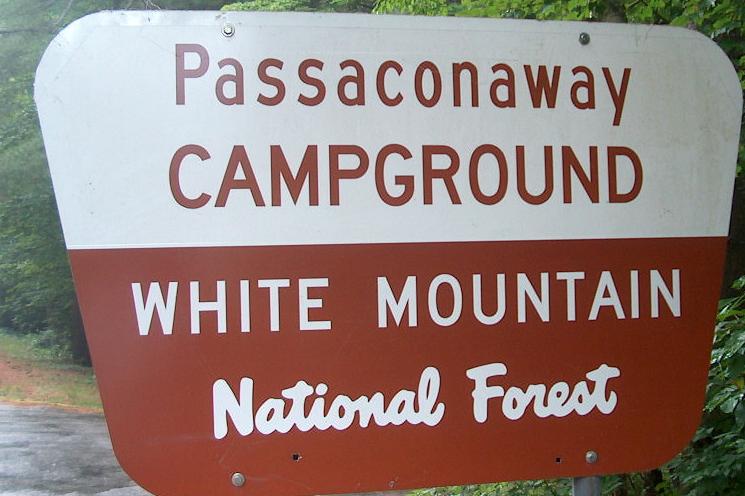 The first night I spent in a national forest campground there was hardly any one there although the cost was only $18. If you do not like people there is where you want to be . I woke up at 4 AM to the sound of rain and a critter inside the RV, sparing the details my AAA tour guide book served to end the exploring of the mouse.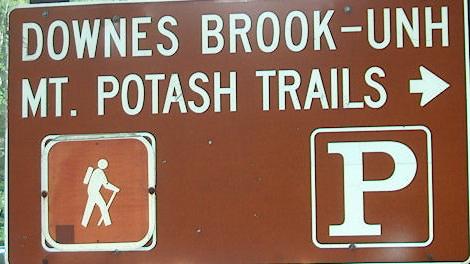 Across from the campground were hiking trails, even though it was raining I was there to hike so I donned my rain suit and off I went. The mosquitoes were having a party around me so I used protection.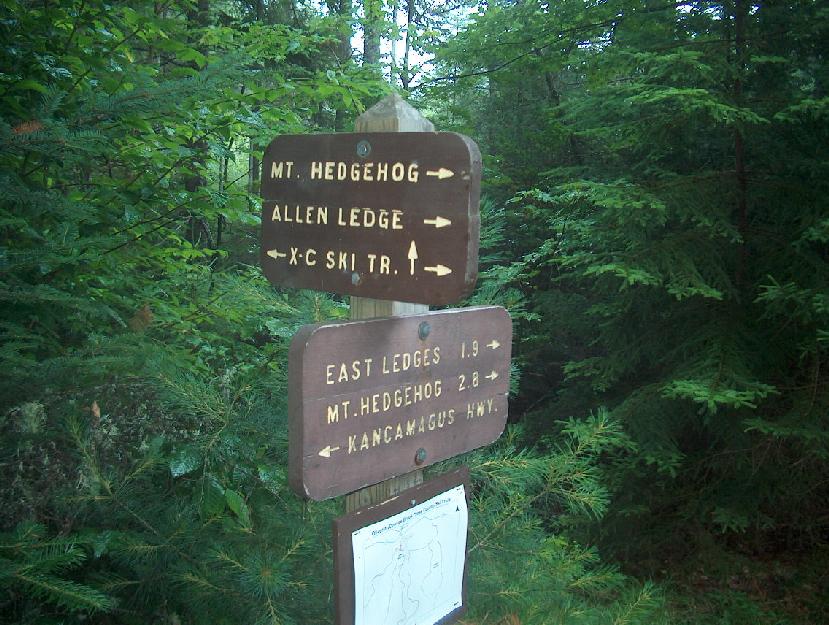 Obviously the directions to Mt. Hedgehog were confusing, which way was it?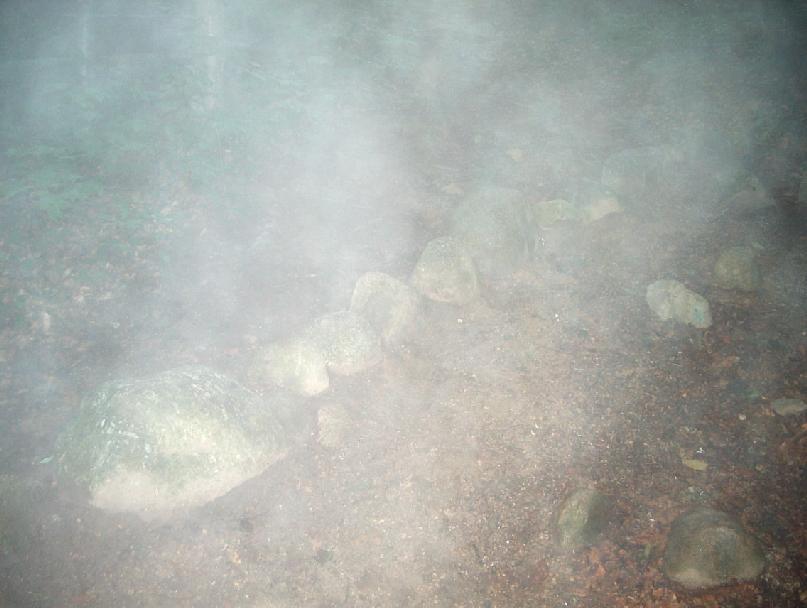 On occasions I had trouble locating the trail.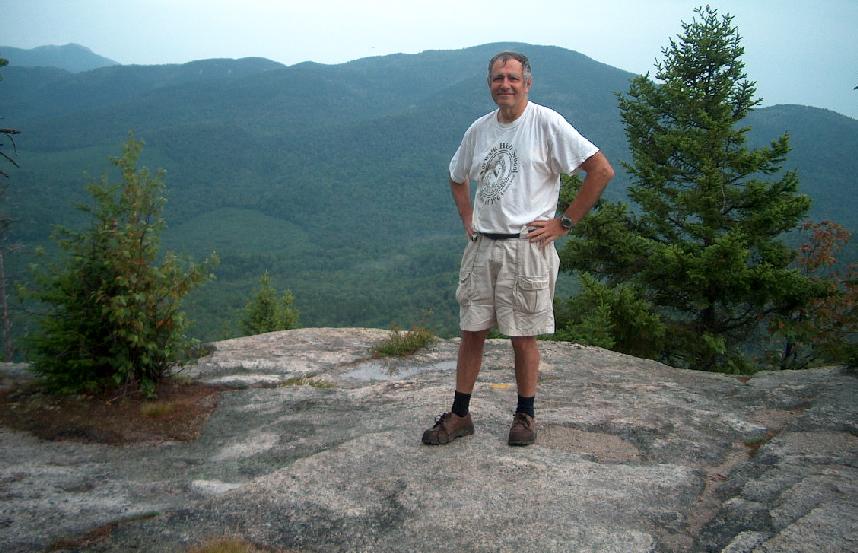 I did reach the top of Mt. Hedgehog. I took off the rain suit as my perspiration was getting me wetter than the rain. You cannot tell but I am quite wet. I stayed up here an hour, had a bite to eat, talked on my ham radio to Falmouth, Maine 70 miles away using a handheld radio. I never saw a soul in my four hours on the trail.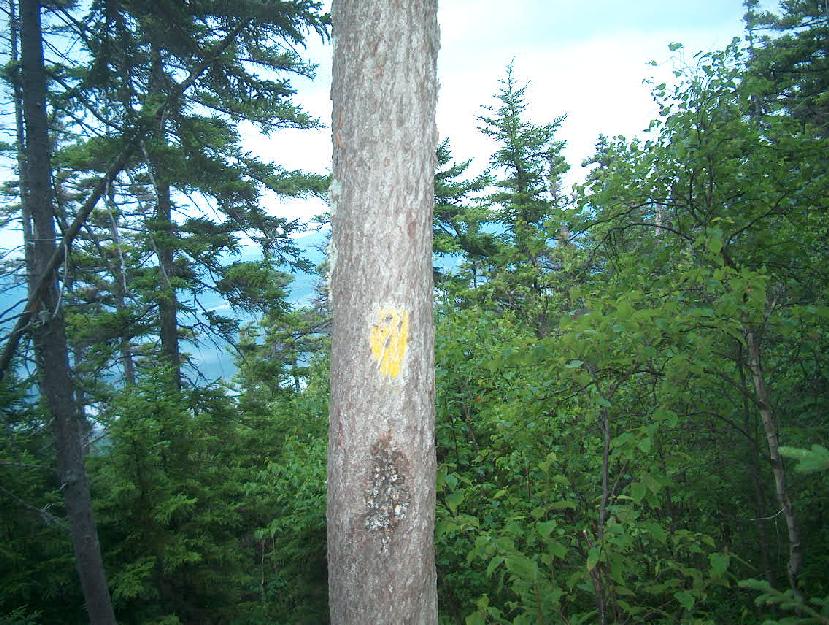 The yellow mark is calleed a "blaze." they are there to help you find the trail. This one is obvious.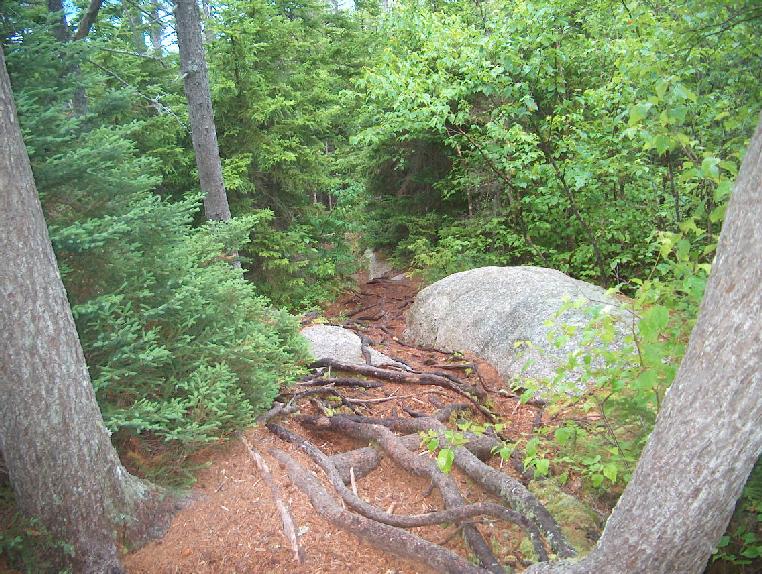 Can you find the trail mark here? I got lost 6 times trying to get down as the trail was poorly marked.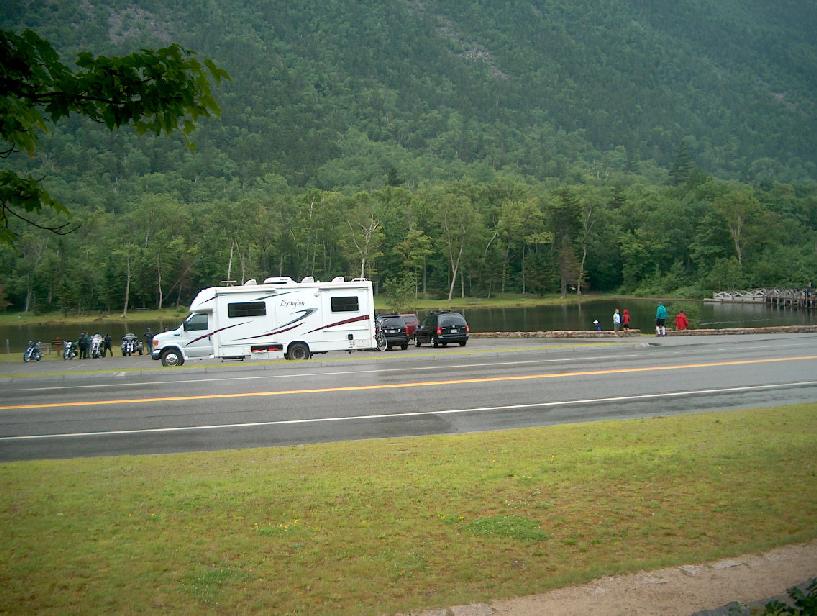 Near the Wiley House on Route 302
.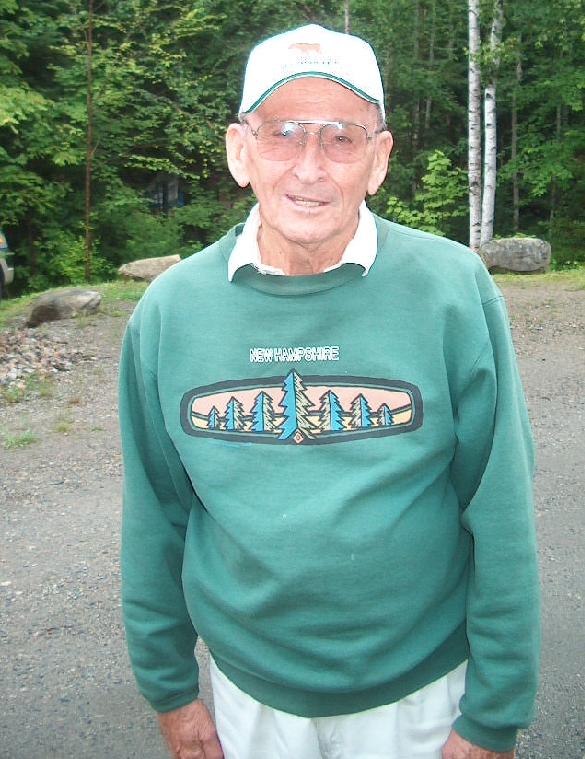 Met the 84 year old guy in the KOA campground in Twin Mountains, N.H. He left Cape Cod BEFORE the Sagamore Bridge was built (1933). He is a full timer. He does not smoke or drink. He said he has a bad memory. He said that three times. He violated Samantha's shirt rule (never wear a shirt from the place you are in). They had an ice cream social at the campground and I met a family from Switzerland. The father who is CEO of a Swiss company He does a lot of business with China but he had little good to say about Japan. He has a lot of trouble understanding regional accents in the USA. They are going next to Cape Cod to go on a whale watch, he complained he gets sick on them.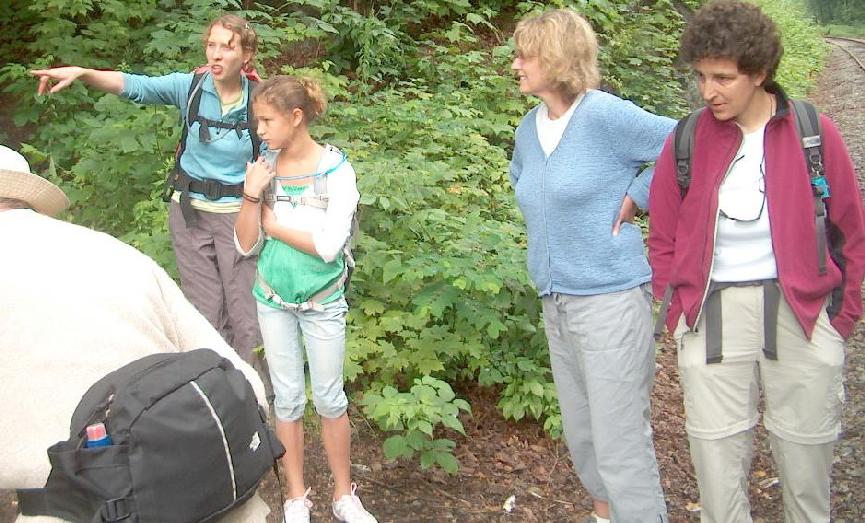 My next hike was a guided one arranged at the AMC (American Mountain Club) off of Route 302. The guide was Leslie.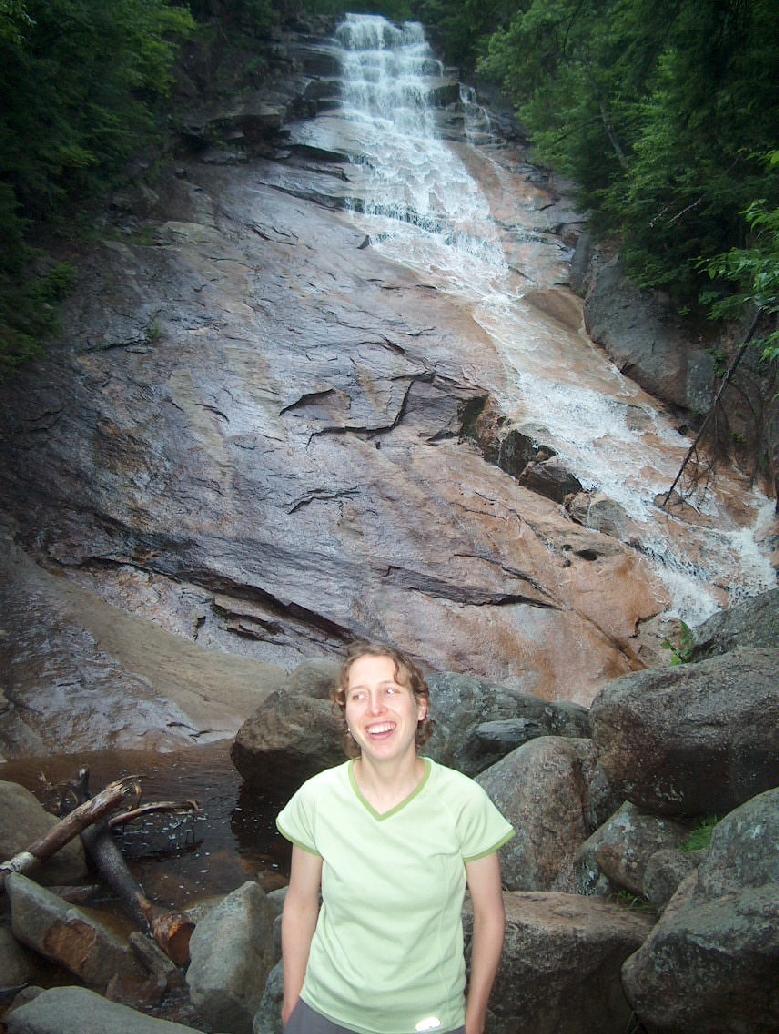 Our guide, she did not want her picture taken, saying she was not photogenic. She was actually the prettiest girl I saw on the whole trip. Part of being pretty is she is fit, she is lively and she was very attentive to the kids on the hike. She and I talked at length as she wants to be a full time teacher.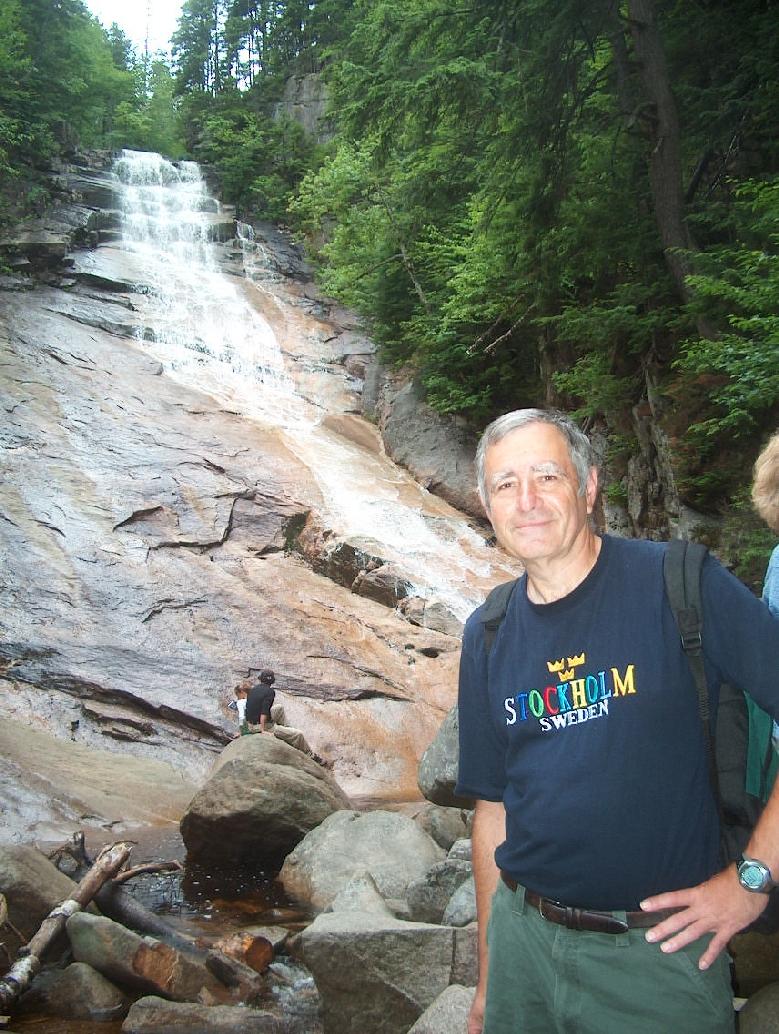 As you can see I did not violate Samantha's shirt rule.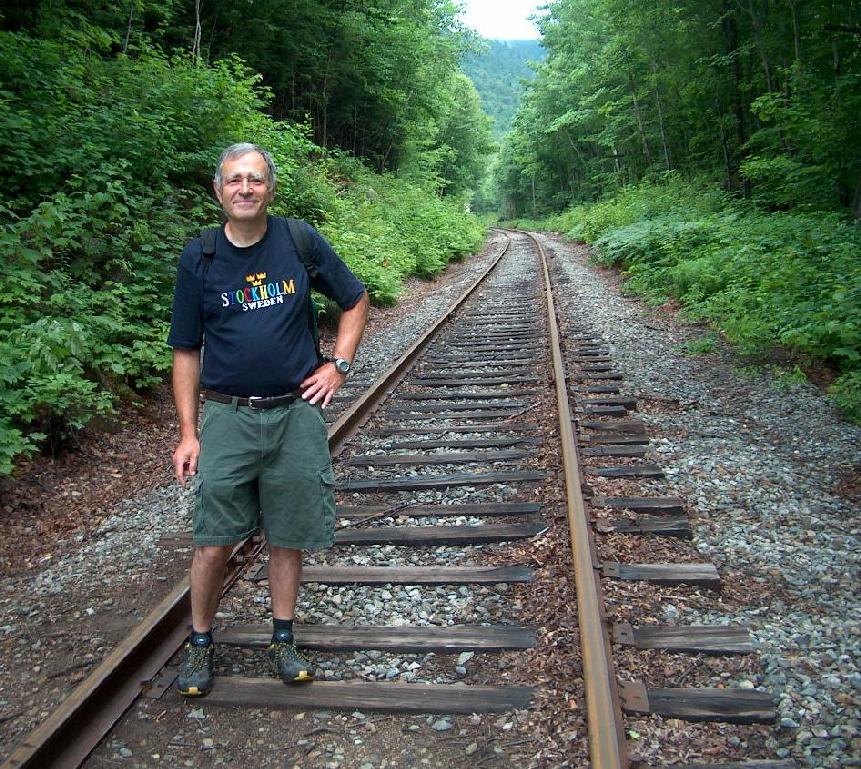 Keeping TRACK of my TRAINing for my next climb.

Click here to see Burt's travels

Send mail to burt2@rocketmail.com