Burt's RV Trip across the U.S.A. April 20-May 20, 2007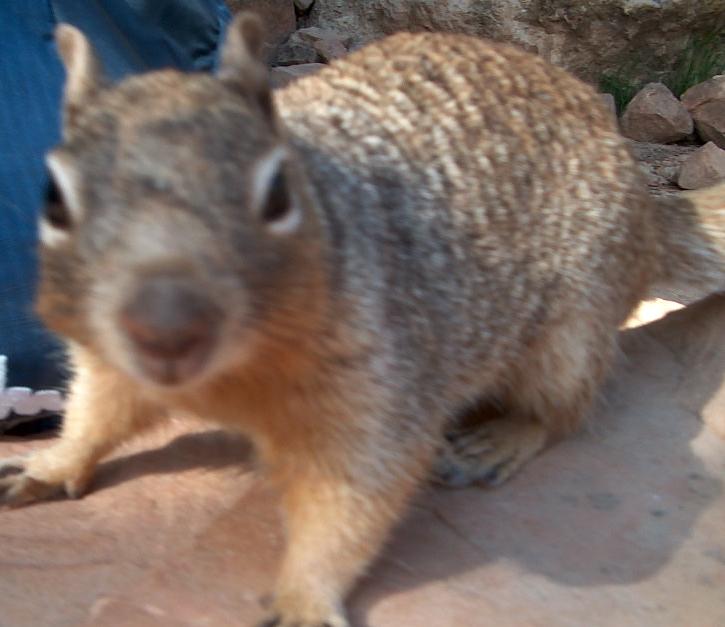 Squirrels are friendly in the Grand Canyon, this picture was not taken with a zoom. They eat out of your hand. I saw one grasp a woman's bagel.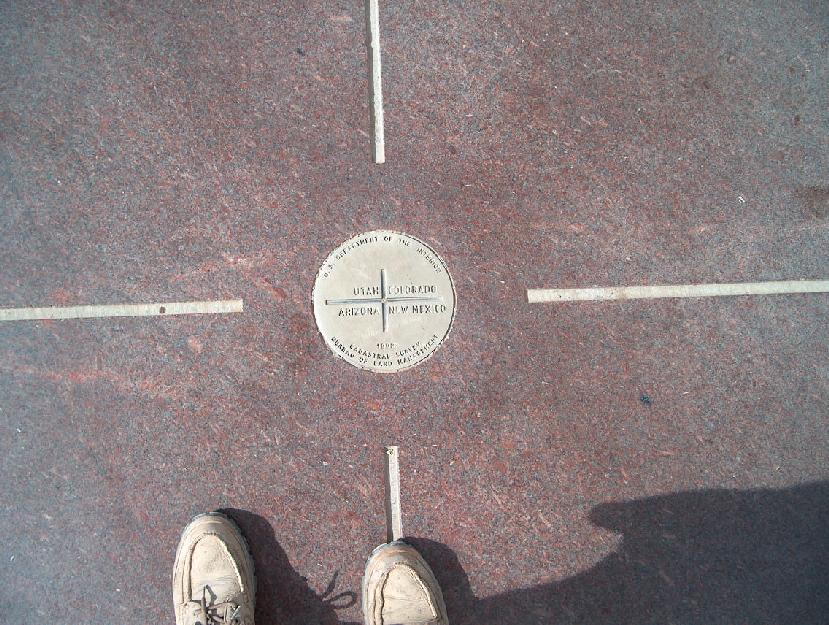 The four corners where four states come together. Notice Grand Canyon dust on my shoes.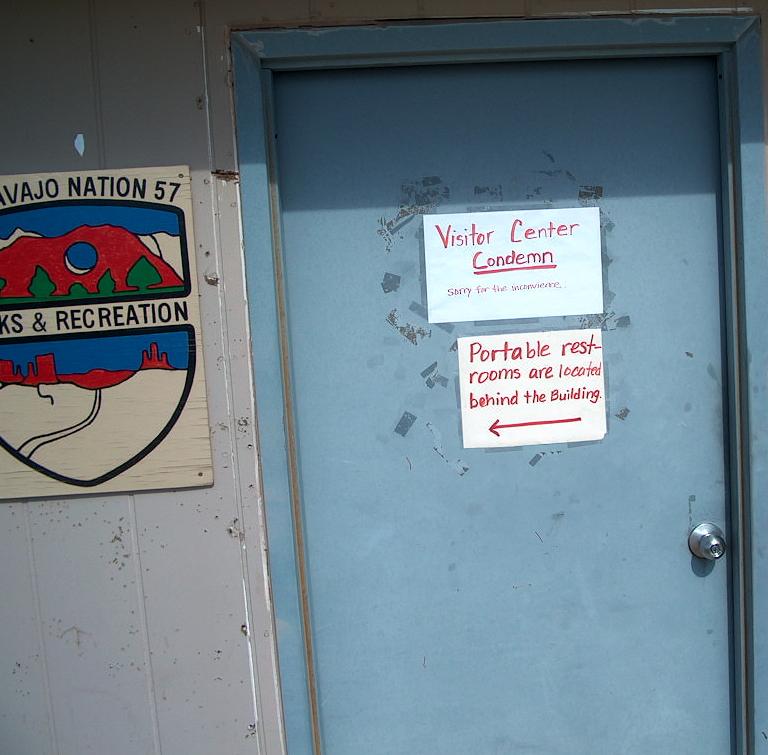 This is the Indian Visitors center at Four Corners, it cost three dollars to get to the four corners. We may have cheated the Indians in the past but they are getting even. When driving through the Navajo reservation I asked if it would look any different. I was told the only way you will know you are on a reservation is the road side rip off stands selling beads. The ride through Arizona and Colorado was one continuous scenic overlook. I thought I would see the Lone Ranger and Tonto as the landscape was like the cowboy show. With all this talk about being politically correct naming of sports teams after Indians being bad as I rode through the Navaho reservation I was surprised to see their team named the Red Mesa Red Skins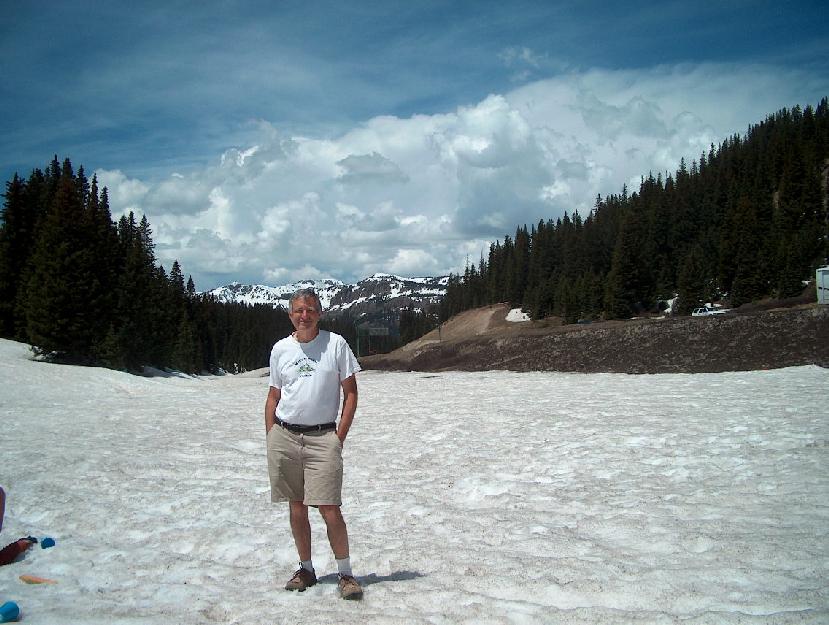 At 11,000 feet in Colorado. It was a little cooler. I found Amelia Earhart, she is doing traffic reports for a Denver radio station.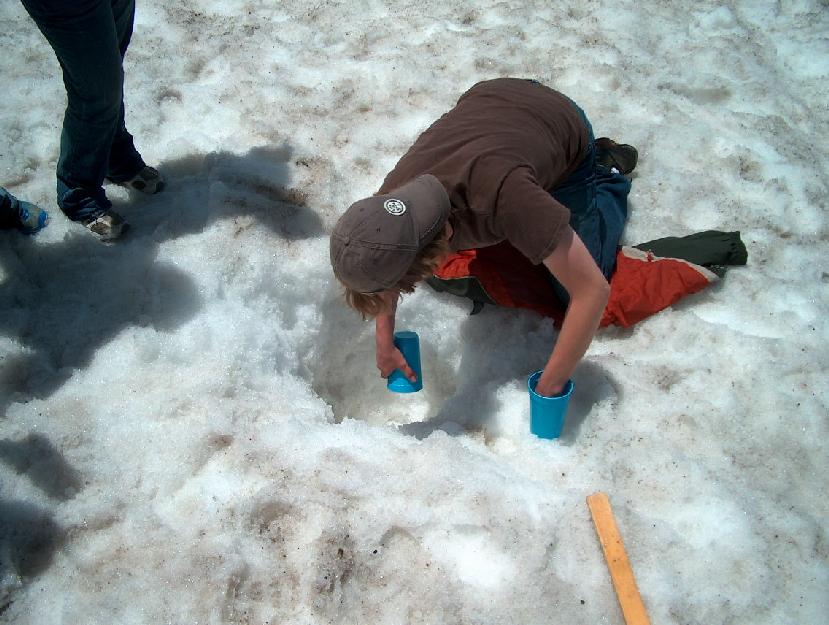 A girl from Arkansas was walking in the snow and lost her shoe, they dug for half an hour and finally found it.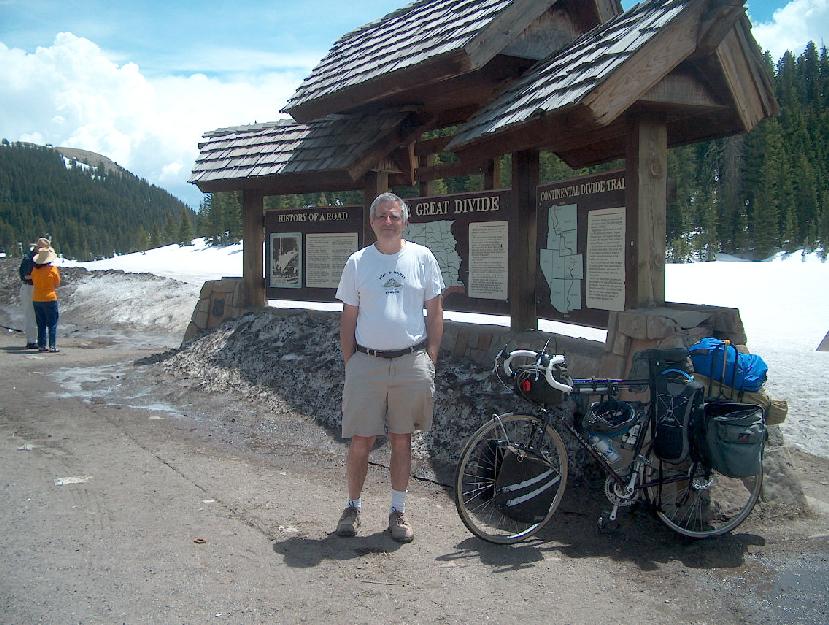 As you can see I was quite tired. One gets tired pedaling up to 11,000 feet, don't you think?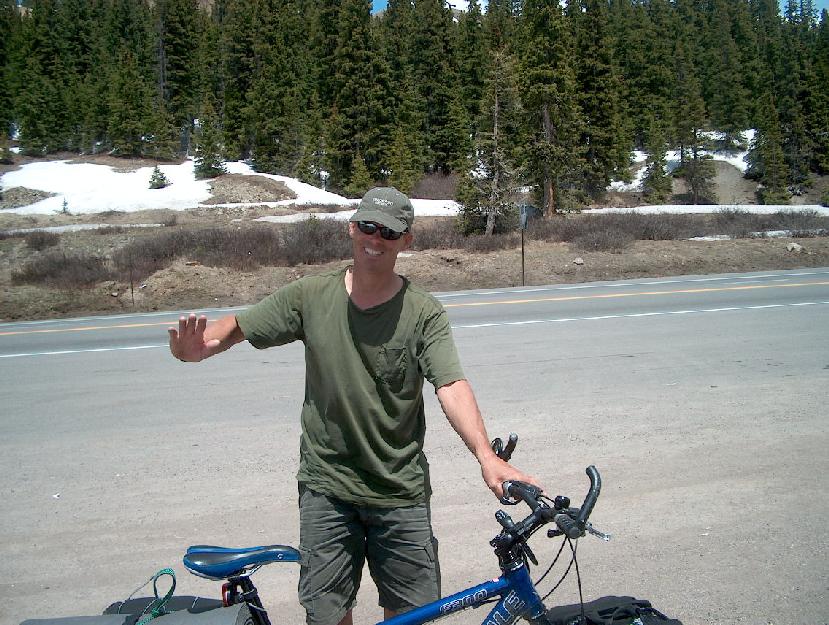 This fellow had biked 8000 miles, when he runs out of money, he finds a job wherever he is. He tells of truckers trying to kill him by wagging their trailers to knock him off his bike and people shooting at him. I tried to pick up his bike, it must be over 100 pounds.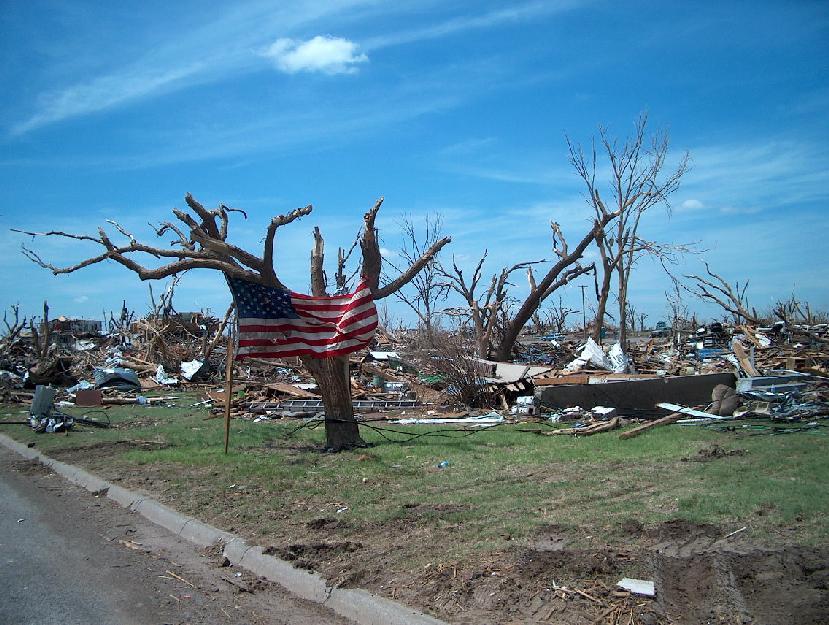 On my way through Kansas I decided to detour slightly through Greensburg. I am a weather nut and an F5 tornado had been there a week earlier.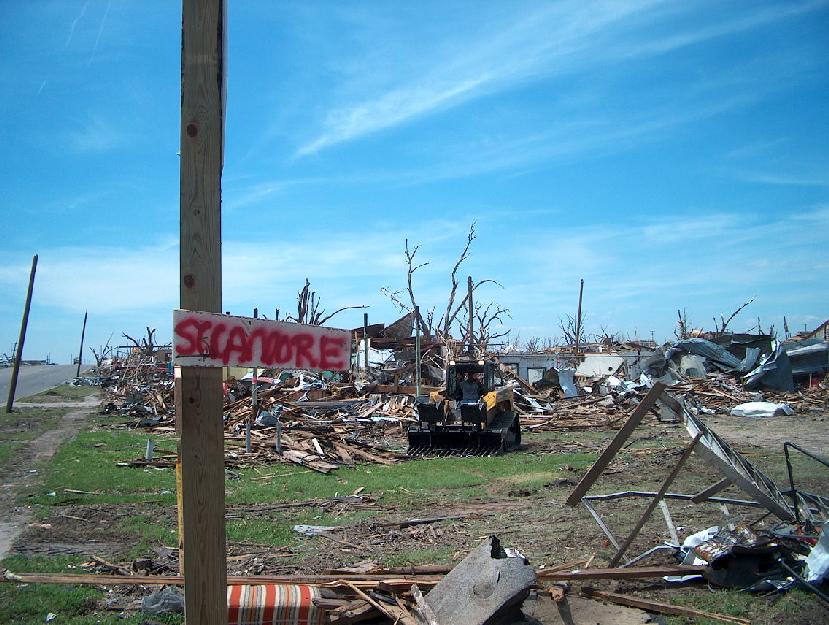 As I approached the road block I got past it before a state policeman called for me to stop. He asked where I was going I said Eastern Kansas. That combined with the fact I was a bit past the road block and it would be a pain to turn me around, he said, "What the hell, go ahead." Street signs needed to be replaced for two reasons, there were none still standing and there were no landmarks.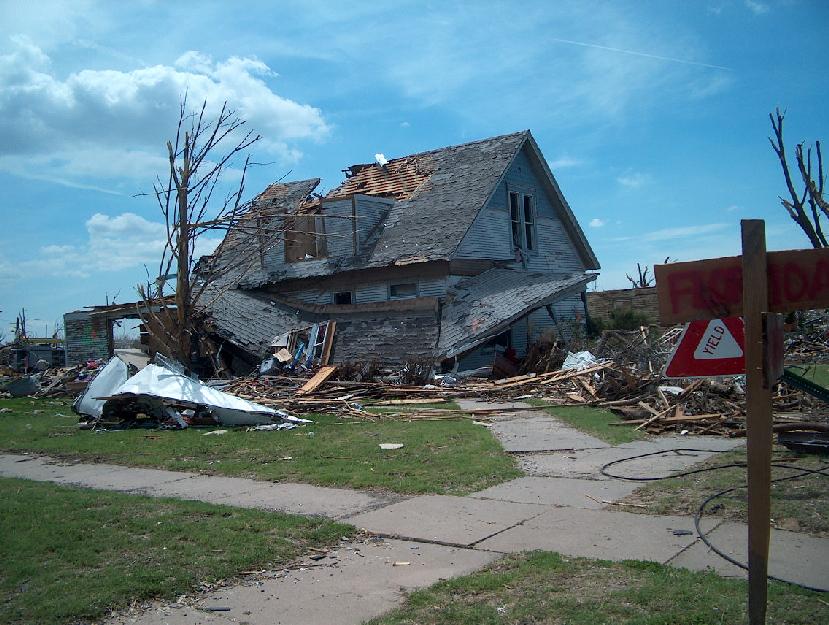 This house was in pretty good shape compared to most of the town. The tornado did not yield. The smell in the town was unforgettable and hard to describe, sort of like gas, oil, burning. I met an 83 year old man who said this was his first tornado, his ears popped, it sounded like a freight train. I asked why he had a swing set in his yard, he said nothing in his yard was his. His chimney fell on his car and wrecked it.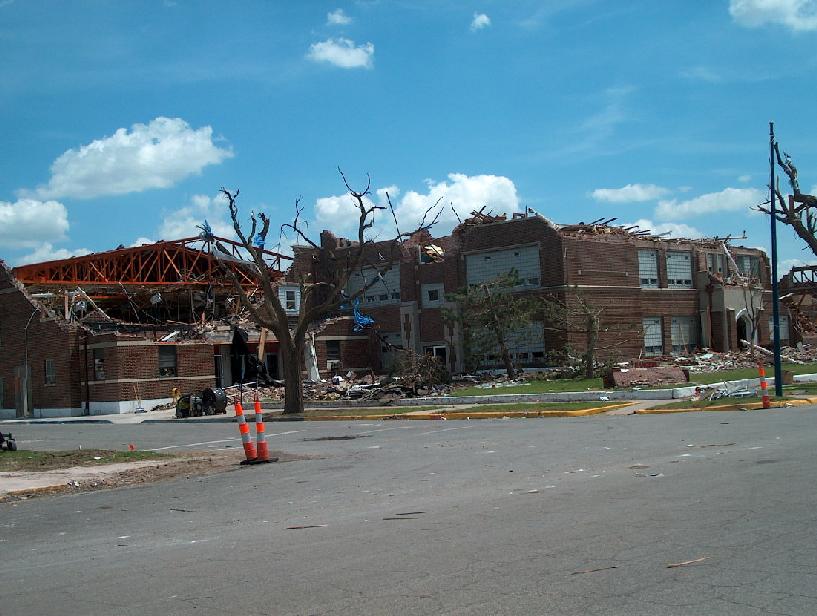 The high school, graduation was held a week later on a Golf course, the only place undamaged. Cars were being towed from town to get the fluids out of the water table. I was able to take these pictures because after I drove through town I found a little park, parked my RV and biked back into town. The winds this day were so strong when I biked down hill I had to pedal and did not have to pedal up hill on my return.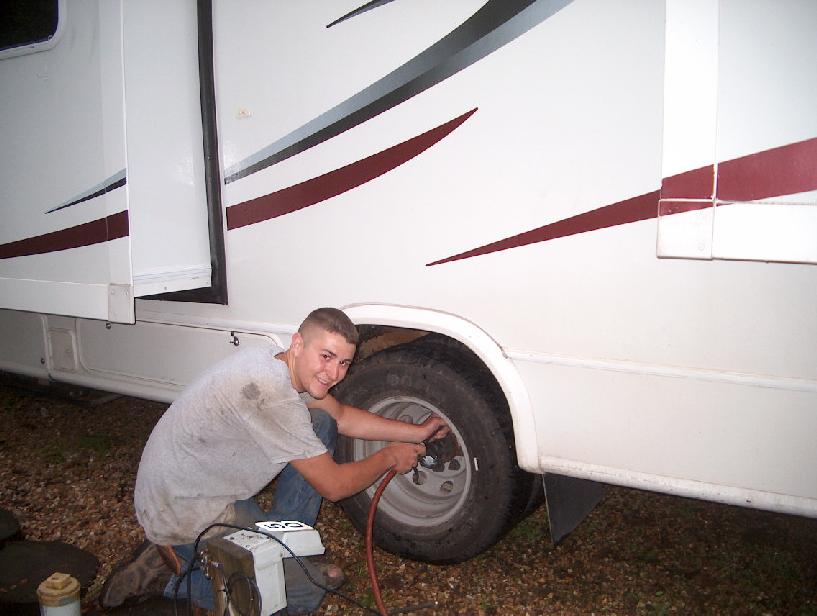 All did not go smoothly as I entered Missouri I checked the air pressure in my tires, the inside one was zero. I pumped it up with my electric pump but I could hear it leaking, I made it 120 more miles to the campground and called "Good Sams" the road service I had bought before the trip.

Click here to see Burt's travels

Send mail to burt2@rocketmail.com